T.G.I.T. — Thank God for Island Time
So as we recover from the mania that is Ironman, we are headed off on a coastal adventure. We'll be spending the next four days on Saltspring Island. Our plan was to take a ferry from Horseshoe Bay to Saltspring, but unfortunately, you can't get there from here my son. So instead, we took the scenic route.
We drove the Sea to Sky highway south out of Whistler down through Squamish and the other million quiet little towns along the way. We knew that there was a 12:50 ferry from Horseshoe to Nanaimo on Vancouver island. Our goal was to catch that and then catch the 3:30 from Crofton to Vesuvius on Saltspring. We had a glorious sunny drive down the coast and arrived at the ferry with plenty of time to spare. Unfortunately, the ferry was full. Thankfully, they'd added a sailing for folks like us who hadn't made a reservation.
We had the most picturesque crossing…an uncommonly beautiful day on the Straight of Georgia.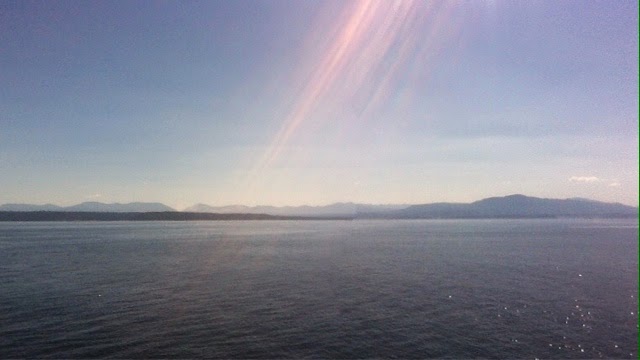 And arrived in the wonderful city of Nanaimo. A little shopping at the local Thrifty's and we were on out way south through Ladysmith and Chemainus before heading to the ferry. It was about halfway there that we realized that we'd be about 5 minutes late for the sailing. 
We roared down the highway and through the sleepy little village of Crofton. The great an all knowing Google told us that the very would accept passengers until 3 minutes before the 5:55 sailing. As the clock ticked over 5:50 and we were only a few minutes away we began to panic. Imagine missing the ferry by only 1 minute?  When we arrived we pulled into the last lane and rolled down our window to ask the guy in line next to us which ferry he was waiting for, as there was a line of cars already on the dock waiting or what was obviously the 5:55 boat. To make a long story short, he laughed and told us we had nothing to worry about. And he was right, the 5:55 boarded at 6:15 and we were off to the small island. Thank God for Island Time.